Magnetometer/Gradiometer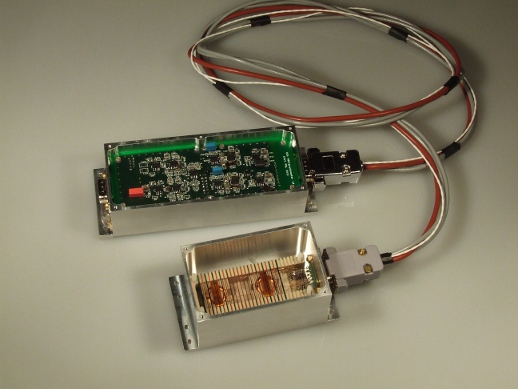 Single-axis, analog instrument with 2 independent outputs measuring magnetic field flux density and its axial gradient with a gradient base of only 20-mm.
Instrument developed in collaboration with Czech Technical University in Prague in the frame of Technology Agency of Czech Republic project TA01010298.
Measurement range (±10V) :
magnetic field ± 100 µT
magnetic field gradient ± 50 µT/m
Nominal sensitivity:
magnetometer 100 000 V/T
gradiometer 200 000 V/T/m
Noise:
magnetometer 10pT/vHz@1Hz
typ. gradiometer 1.1nT/vHz@1Hz
typ. Bandwidth: 100 Hz
Supply voltage: 10-16 V
Detachable sensor head and electronics allow for measuring magnetic field undistorted by the detection electronic magnetic signature. Also a low-cost version with noise increase of 2x can be supplied. Traceable calibrations available. Patented technology by national patents, EU patent pending.